Cornell-China Forum: November 18, 2019 in Beijing
Cornell China Center Kicks off Collaboration with Two Inaugural Events
Cornell University taught its first Mandarin class in 1870 and graduated its first Chinese student in 1901. That student went on to become China's Ambassador to the United States and so began over 100 years of collaboration between Cornell and China. On November 18, university leaders, faculty, alumni, collaborators and friends celebrated this long history with two events in Beijing: an academic symposium that brought together Cornell researchers with university partners from across the country to discuss new research and potential collaborations, and a 5-hour Cornell-China Forum that featured cross-sectoral panels on four themes: Future Health Service and Health Tech; Food Safety and Digital Agriculture; Innovations for Future Urban Living; and Energy, Environment and Education.
Academic Symposium Highlighted the Potential for University Partnerships
A morning Cornell-China Symposium on Research Collaboration was held in the new Cornell China Center office in the central business district in Beijing. The space hosts university and alumni events and is the center of a coordinated Cornell presence in China.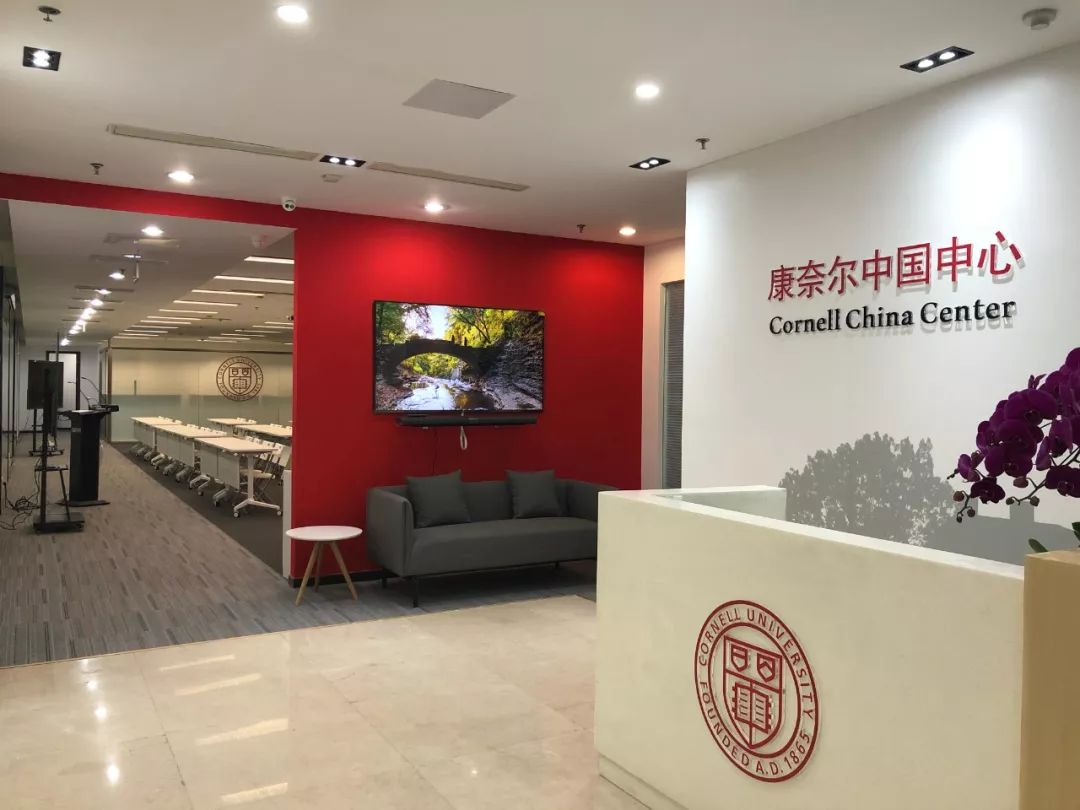 The symposium brought together approximately 60 researchers and senior leaders from Cornell and partner universities in China.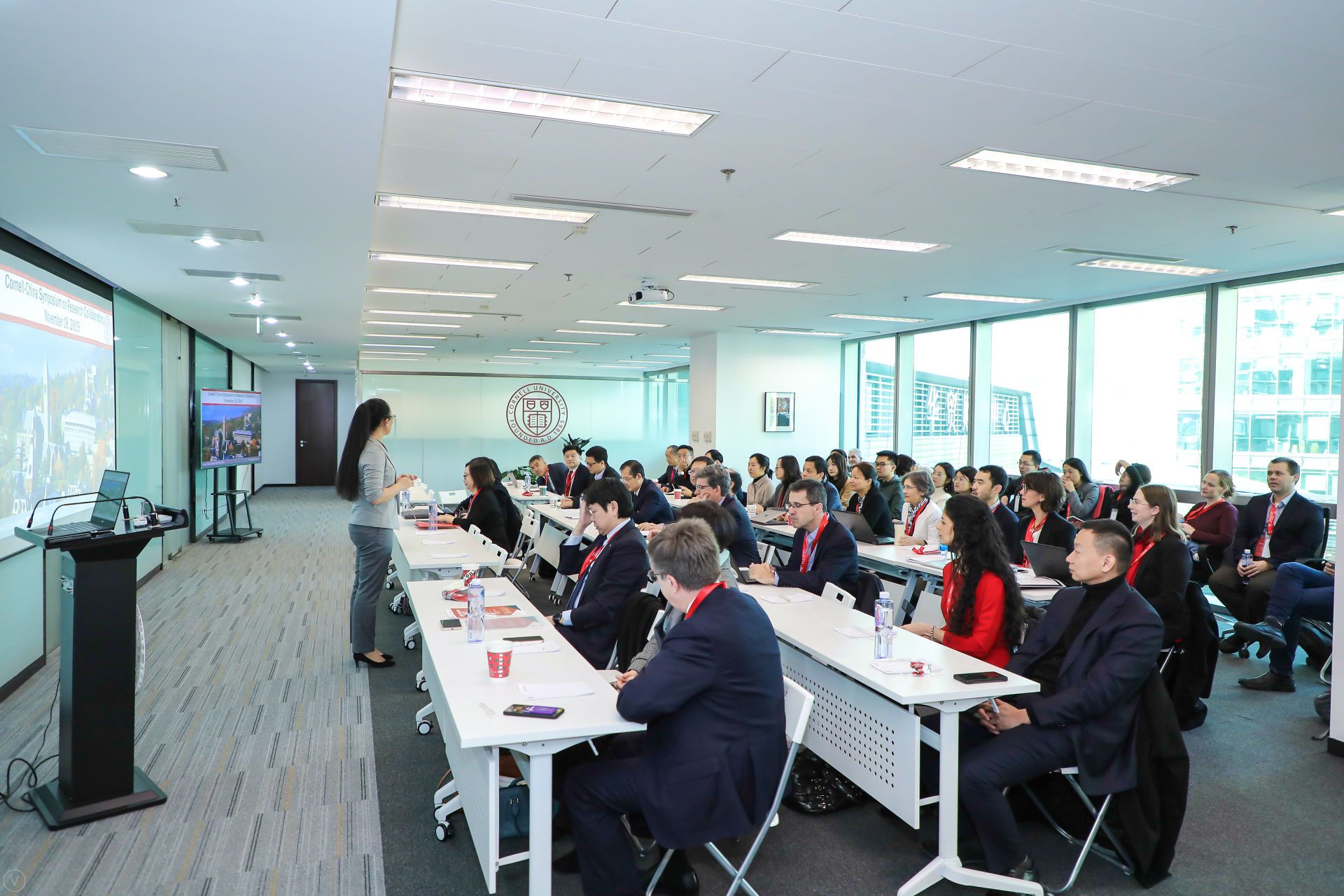 Cornell China Center Director Ying Hua opened the Cornell-China Symposium on Research Collaboration in the new Cornell China Center space in Beijing on the morning of November 18, 2019.

The morning opened with a leadership panel that included Qiao Liu, Dean of Peking University's Guanghua School of Management, Jeffrey Lehman, Cornell's 11th President and current Vice Chancellor of NYU Shanghai, and Michael Kotlikoff, Cornell's Provost. Dean Liu highlighted how "exchanges help people to think about issues in new ways and educate the leaders of the future," and he advocated that researchers must convince others—including industry—of the value of research by making it relevant. Jeffrey Lehman, who has extensive knowledge of both Cornell and China, discussed examples of how universities can advance humanity through cross-sectoral, cross-country partnerships to address current disputes, asserting that what academics do is not bound by nations but by understanding and insight. Cornell provost Kotlikoff agreed, "Clearly, there's an imperative and benefit to collaborating. Incentivizing that interaction is difficult, though; this is one area where we can work together to create the right environment for faculty to interact."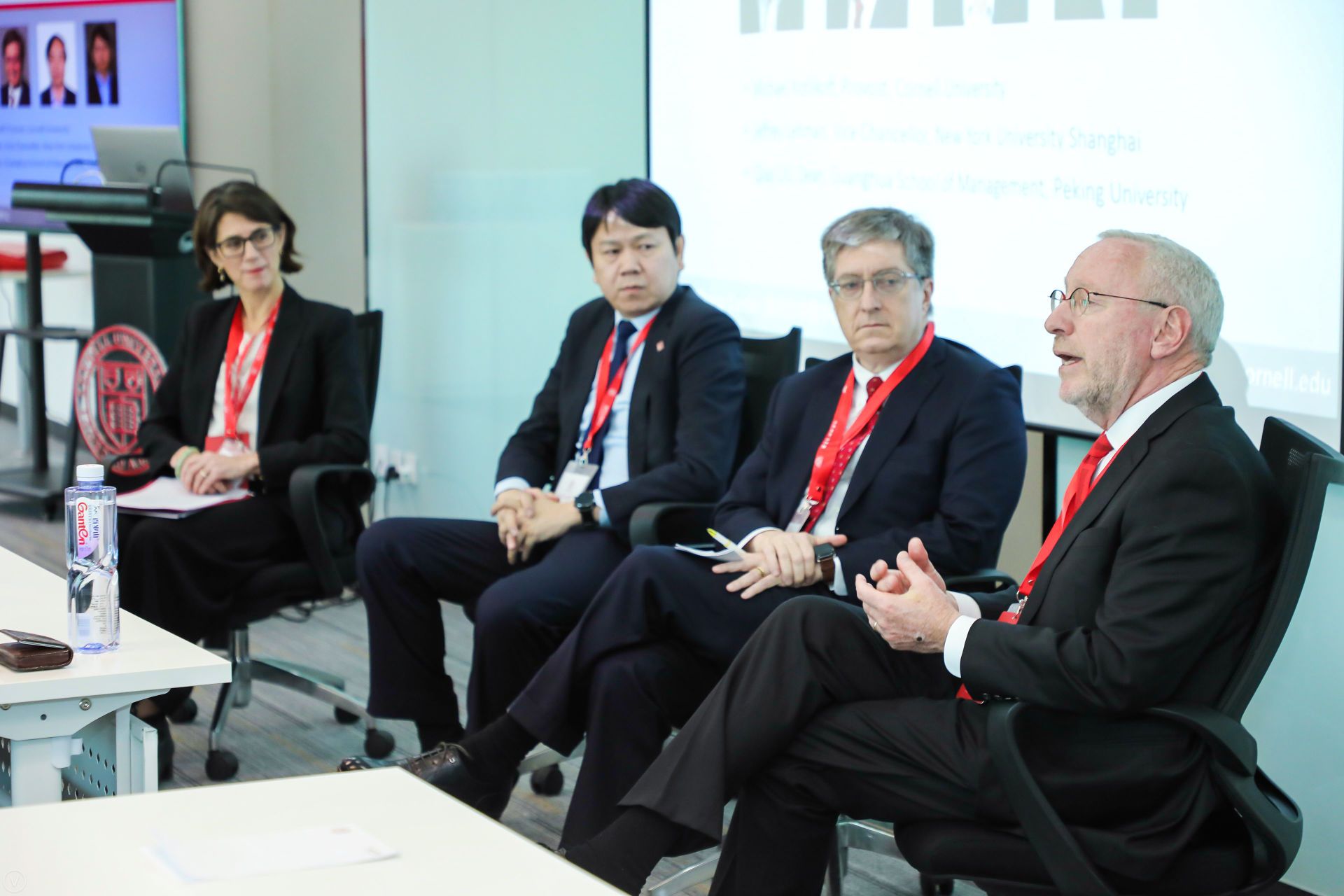 Vice Provost for International Affairs Wendy Wolford moderated a panel of university leaders including Peking University's Guanghua School of Management Dean Qiao Liu, NYC Shanghai vice chancellor and former Cornell president Jeffrey Lehman, and Cornell Provost Michael Kotlikoff.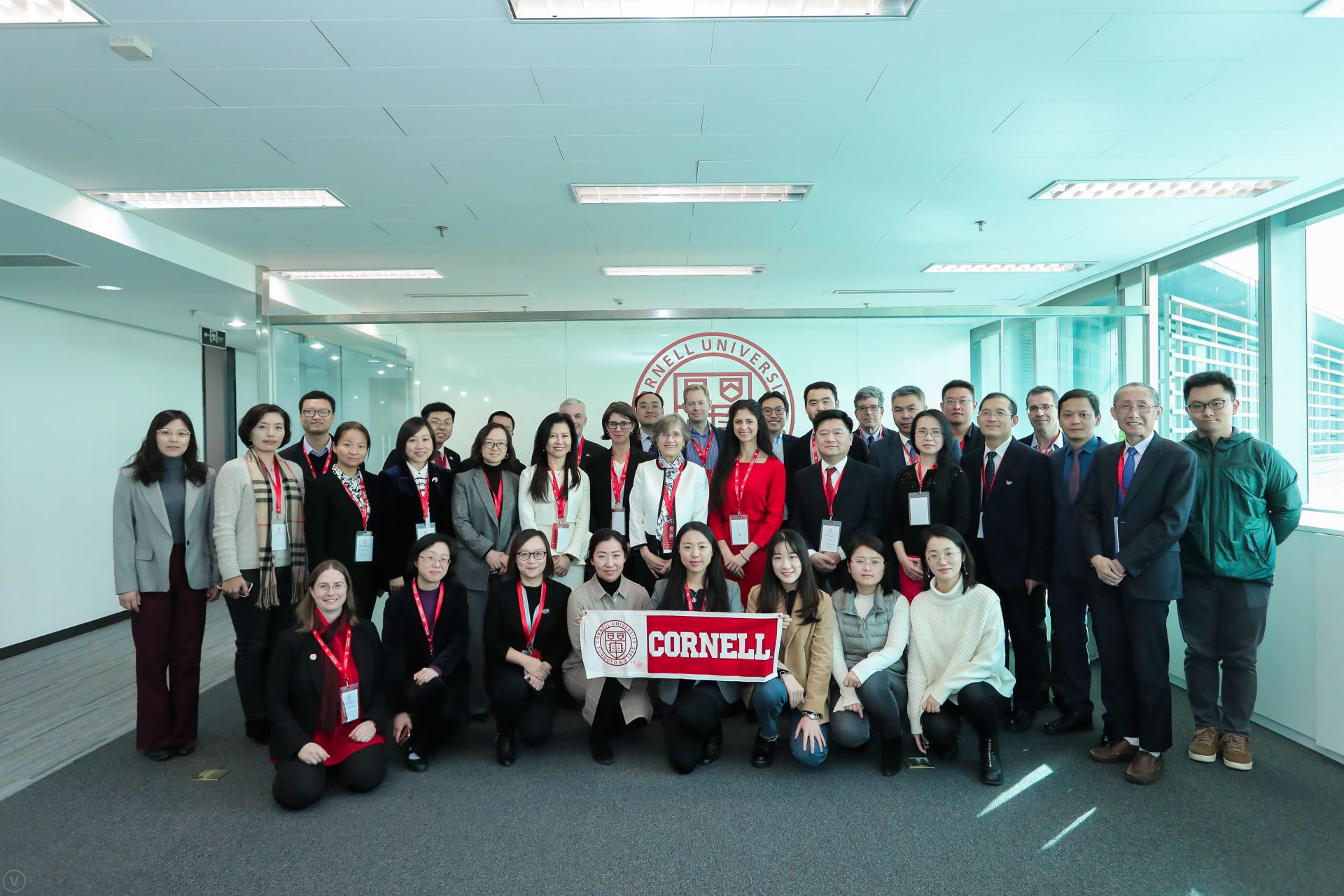 Cornell-China Forum Illuminated the Value of Cross-Sector Collaboration
In the afternoon, the Inaugural Cornell-China Forum was held in the Rosewood Hotel with over 300 faculty, collaborators, alumni and friends. The Forum was designed to feature panels with participants from across the academy and industry, for dialogues on pressing challenges and important innovations in their fields and the potential for cross-sectoral collaboration and impact. The forum agenda and speaker bios are available here. President Martha Pollack kicked off the Forum with an address, sharing examples of Cornell's rich history of engagement, teaching, and research with China. She emphasized that as the only land-grant university within the Ivy League, Cornell takes seriously its mandate to not only create and disseminate knowledge but also to do so for the public good.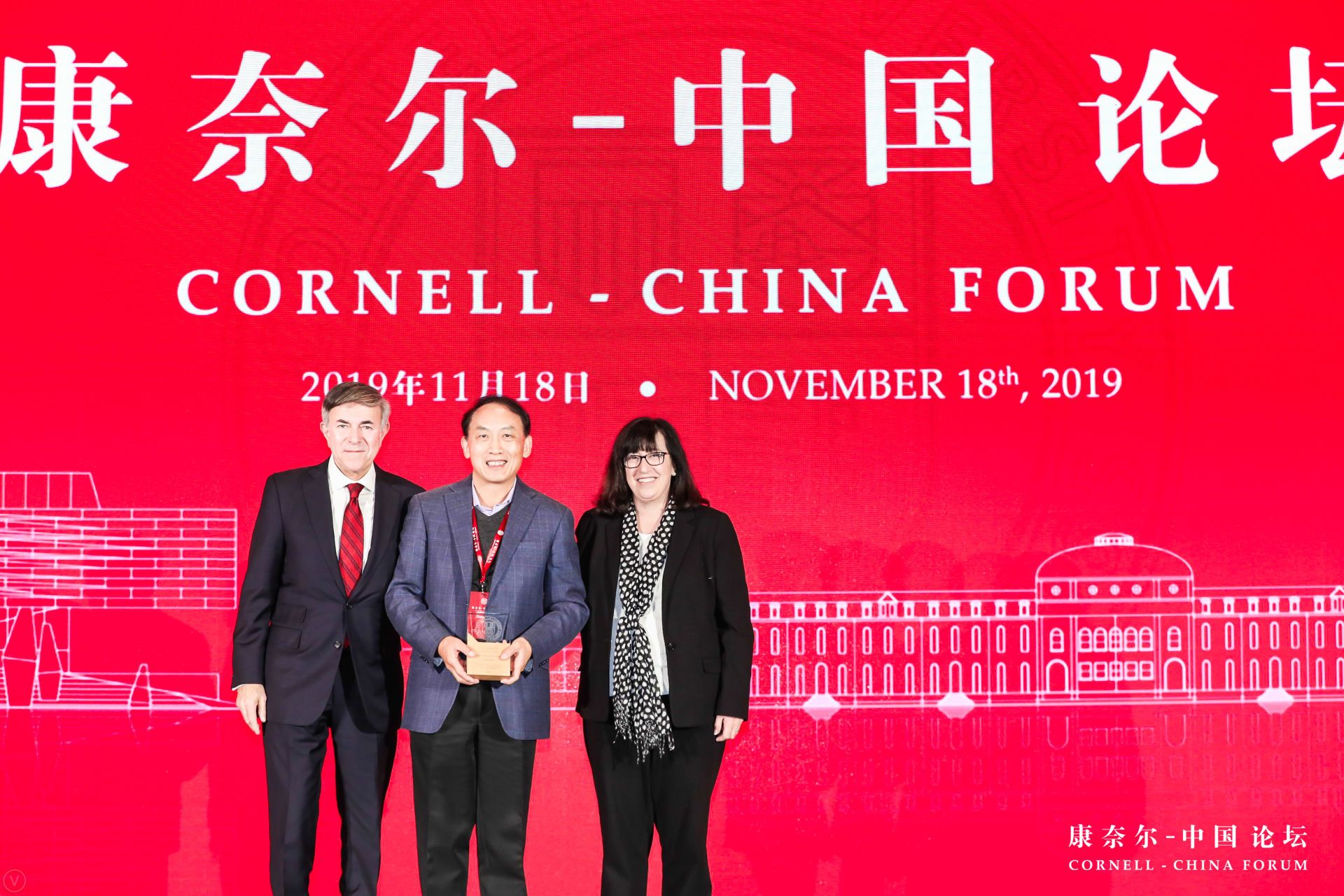 Cornell Board of Trustees Chair Robert Harrison and Cornell President Martha Pollack recognized Gang Yu MS '86, P '18 (center), Co-Founder and Executive Chairman of 111, Inc., for his leadership as the founding chair of the Cornell China Advisory Board.

Provost Michael Kotlikoff addressed the crowd as well, stating: "I am personally very excited by the vast potential for collaborations between Cornell faculty and students and our counter-parts in China. Cornell has the necessary depth and breadth of academic excellence; a strong tradition of collaboration across the borders of disciplines and nationalities; and a longstanding commitment to addressing the greatest challenges facing human society."  

The Forum's keynote speaker was Robert Harrison, Chairman of the University's Board of Trustees. Harrison gave a visionary talk, sharing lessons on how to make an impact on a global scale that he learned through his leadership of the Clinton Global Initiative: "Think big," he said. "Stress measurement, scalability, and sustainability. Work with industry, not against it. And encourage cooperation among the public sector, the private sector and civil society, because no single sector can address the world's biggest challenges alone."

Harrison described four recent changes shaping the capacity for work that would make a real difference: the recent explosion of non-governmental organizations and the resources made available to them; the growth of impact investing to generate social or environmental impact as well as financial returns; the increasing number of businesses building social and environmental goals directly into their core business models; and the recognition that cross-sector partnerships work. He added, "I have no doubt that many more such programs and partnerships will be discussed at this Forum today and created under the umbrella of the Cornell China Center in the future."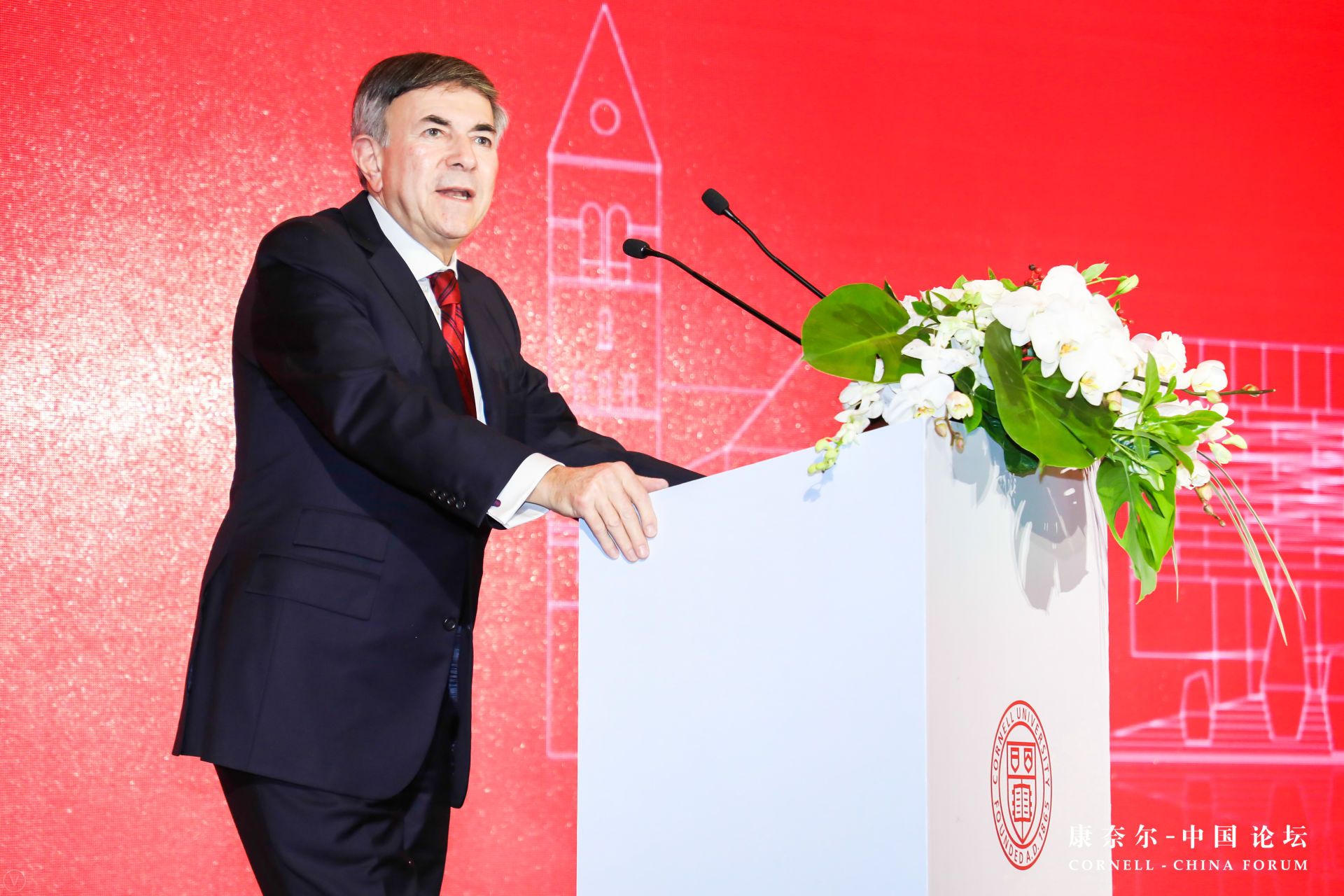 Cornell Board of Trustees Chairman Robert Harrison gave the keynote address about how to make an impact at a global scale. 

Philanthropist Howard Milstein also addressed the crowd via a lively recorded greeting, sharing his support for Cornell and research in general to improve human lives, and welcoming attendees to this "landmark event."

The four panels covered a range of important topics and perspectives. In the panel on health services and technologies, Gang Yu MS '86, P'18, Cornell China Advisory Board member and Co-Founder and Executive Chairman of 111, Inc., said, "The main pain point for Chinese patients is an inefficient, fragmented supply chain. We can change this through data. Doctors can use artificial intelligence to help reduce time spent on medical treatment." Weill Cornell Medical associate dean Michael Stewart said, "I'd love to see a way to teach the teachers to teach better and have a huge public health effect." 

In the panel on food safety and digital agriculture, Cornell professors Martin Wiedmann and Kirstin Pederson described their research digital agriculture analytics and Wiedmann argued that "to move from technology innovation to systems innovation, we will need not just biology, chemistry, and toxicology but also the social sciences. Cornell is extremely poised to make a difference in that area."

In the panel on innovations for future urban living, Randy Wan '12, Founder and CEO, inDeco, discussed the use of technology to shorten and automate the design process of office spaces and make good design more accessible. Jill Lerner, Principle, Kohn Pedersen Fox Associates (KPF) '75, P '10, said, "Spaces have to facilitate interaction, whether for a small company or creating an important central space at a major university or city." SOM Design Partner Mustafa Abadan '82, M. Arch '84, P '19, agreed arguing that livable cities are the only solution for the future and need to be designed for connection, including in China where 250 million people will move from rural to urban areas in the near future, "Cities are the connective tissue that allow people to connect with each other."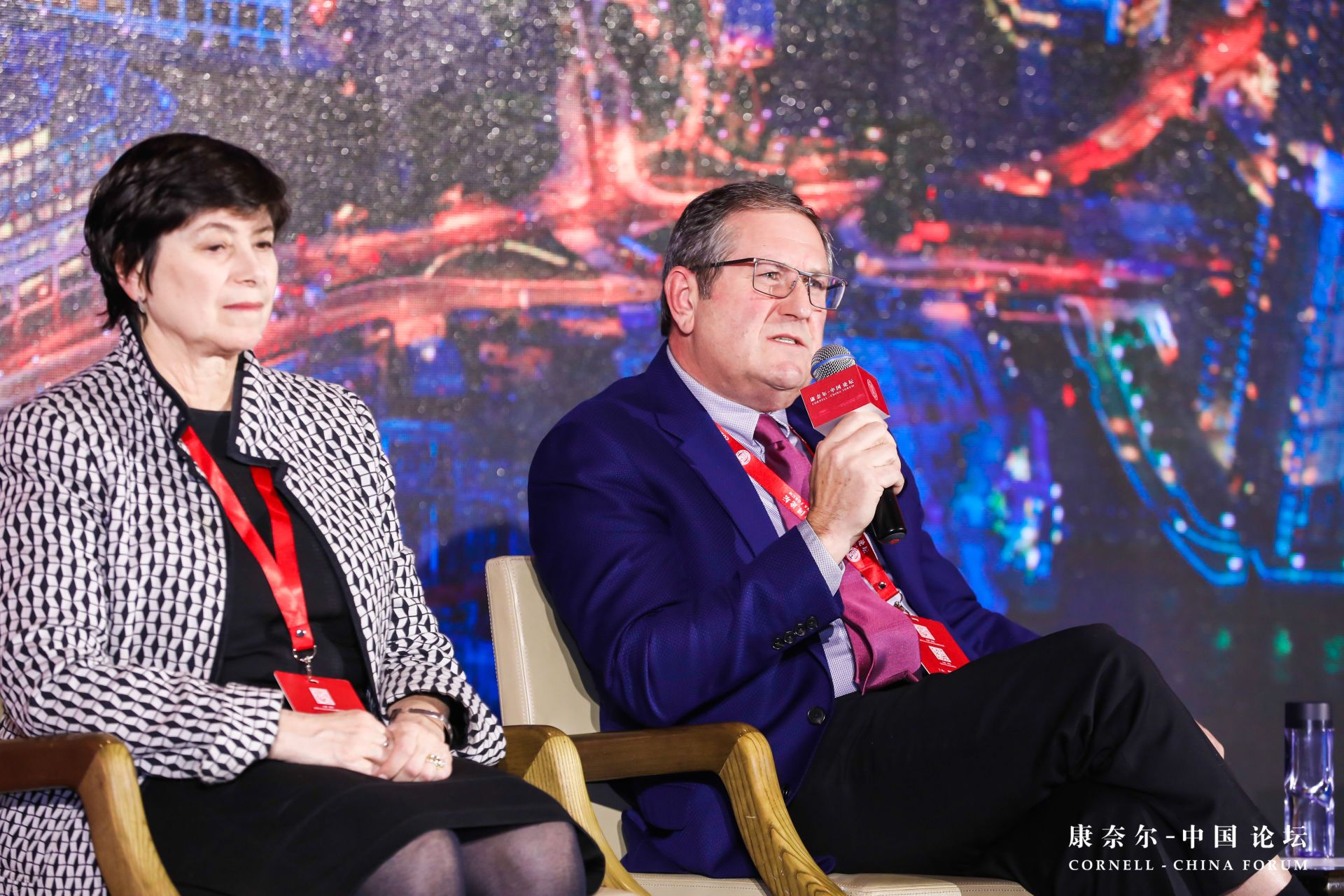 Panelists Jill Lerner '75 and Mustafa Abadan '82, M. Arch '84 spoke on designing spaces to facilitate interaction and connections. 

Finally, the panel on Energy, the Environment and Education featured the winning projects in last fall's Cornell China Innovation Grants and focused on innovations designed to help build environmentally sustainable practices from the individual to the urban to the macro scale.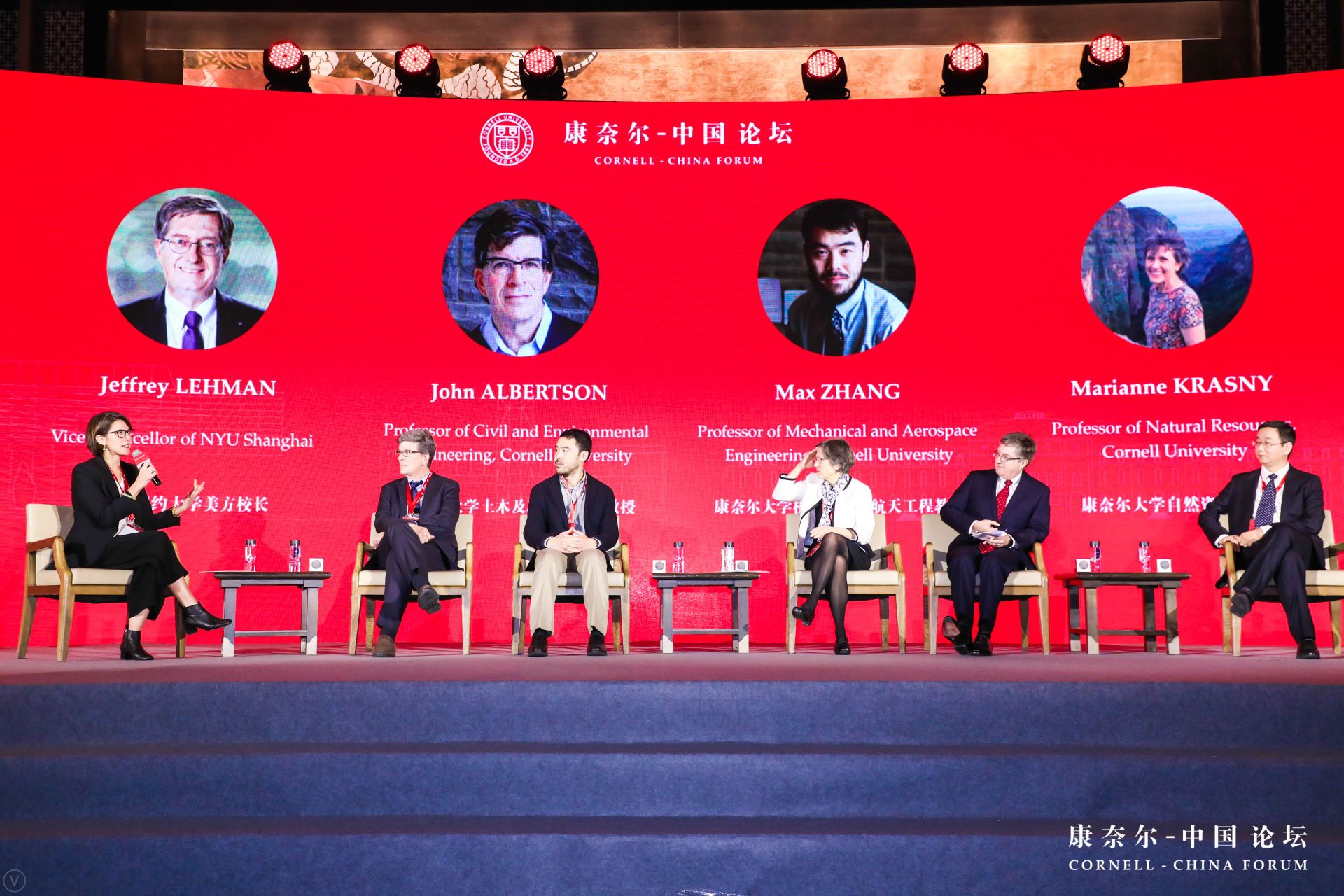 The Cornell-China Forum on the afternoon of November 18, 2019 included a panel on Energy and Environment focused on research collaboration. The panel was moderated by Wendy Wolford (Vice Provost for International Affairs) and included Jeffrey Lehman (Vice Chancellor of NYU Shanghai), John Albertson (Professor of Civil and Environmental Engineering), Marianne Krasny (Professor of Natural Resources), Max Zhang (Professor of Mechanical and Aerospace Engineering), and Kevin Mo (Managing Director of Paulson Institute Beijing Representative Office).

In his talk, Jeffrey Lehman, Vice Chancellor of NYU Shanghai, described how Cornell "remains exceptionally well suited to conduct transformative interdisciplinary research that fuses humanistic and scientific insights. That kind of research holds the key to progress in areas like personalized wellness, beneficial artificial intelligence, and sustainable global development. It is especially promising when conducted together with partners here in China." Lehman argued that although U.S.-China research partnerships are now facing "the most powerful headwinds they have faced in the past 40 years," and some current issues between the two countries are real, "radical decoupling would be a devastating overreaction. It threatens tremendous economic harm to the world. Even more importantly, it undermines a 40-year-long process of ever-deepening cultural, political, and intellectual cooperation."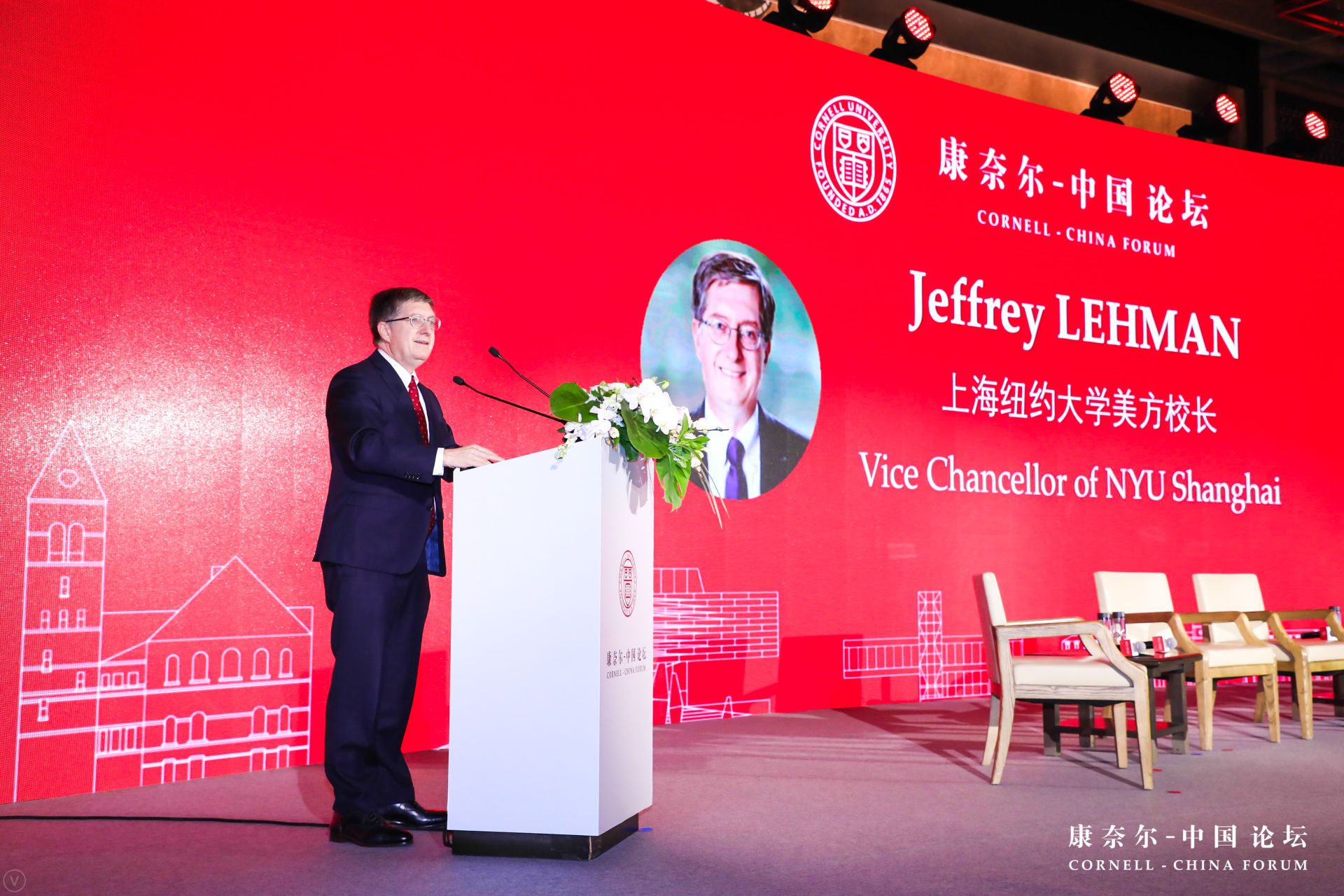 Cornell University's former (11th) president Jeffrey Lehman spoke on how cooperation with China has incalculable instrumental value as we confront global challenges.

Jonathan Jia Zhu, JD'92, PA '16, PA '23, Managing Director of Bain Capital Asia, and chair of the Cornell China Advisory Board, expressed enthusiasm for the day's activities and a commitment to working with the university to ensure the success of the Cornell China Center.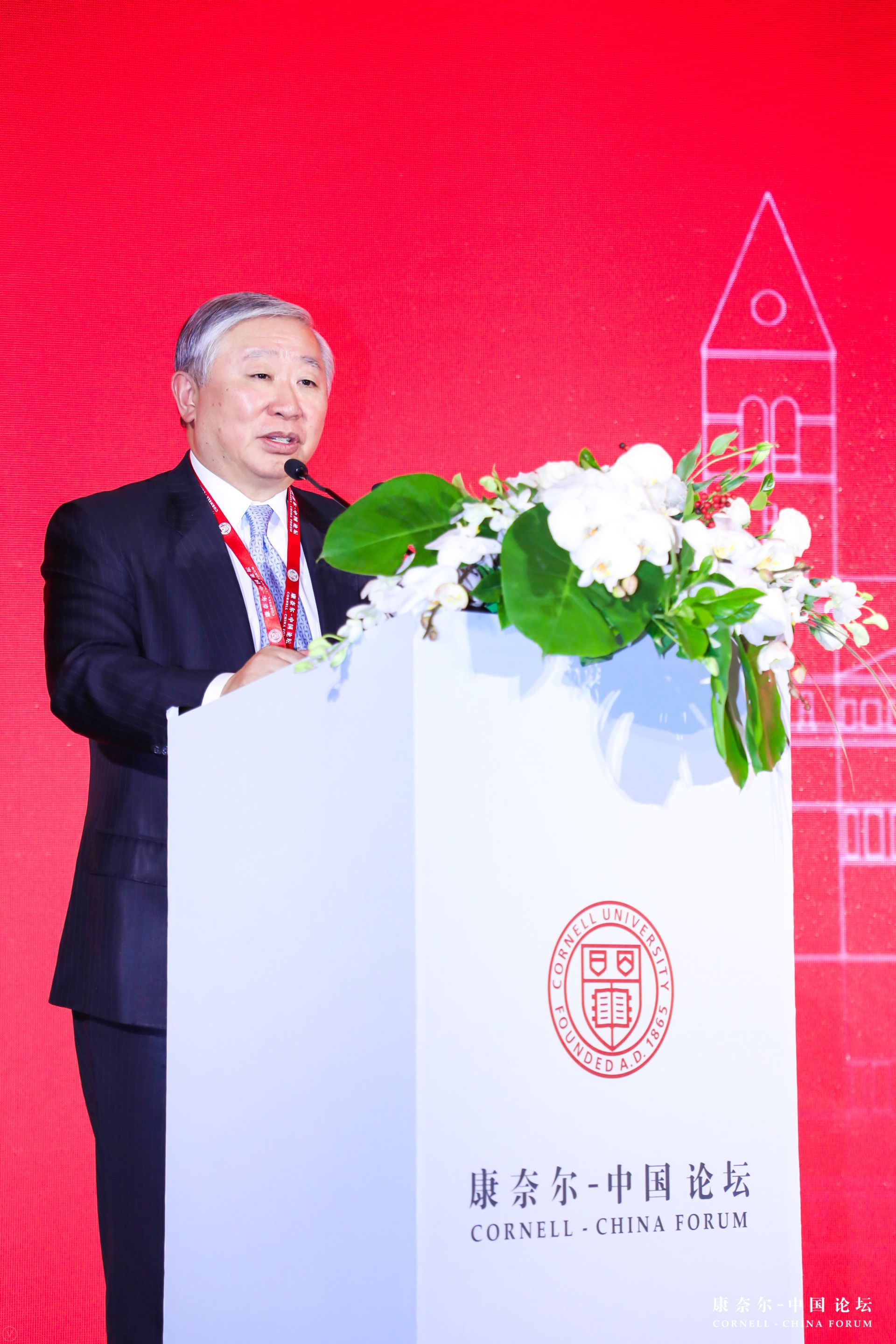 Cornell China Advisory Board Chair Jonathan Jia Zhu JD'92, PA '16, PA '23, Managing Director of Bain Capital, described how he and many other board members have been working to give back to Cornell after having benefitted from attending the university and shared excitement at the establishment of the Cornell China Center, its new Beijing office, and this inaugural forum.

Cornell Vice Provost for International Affairs Wendy Wolford and Cornell China Center Director Ying Hua concluded the forum, highlighting the value of connections and collaborations, and expressing excitement about the future of the Cornell China Center and its new office in Beijing to serve as a window and bridge for Cornell in China.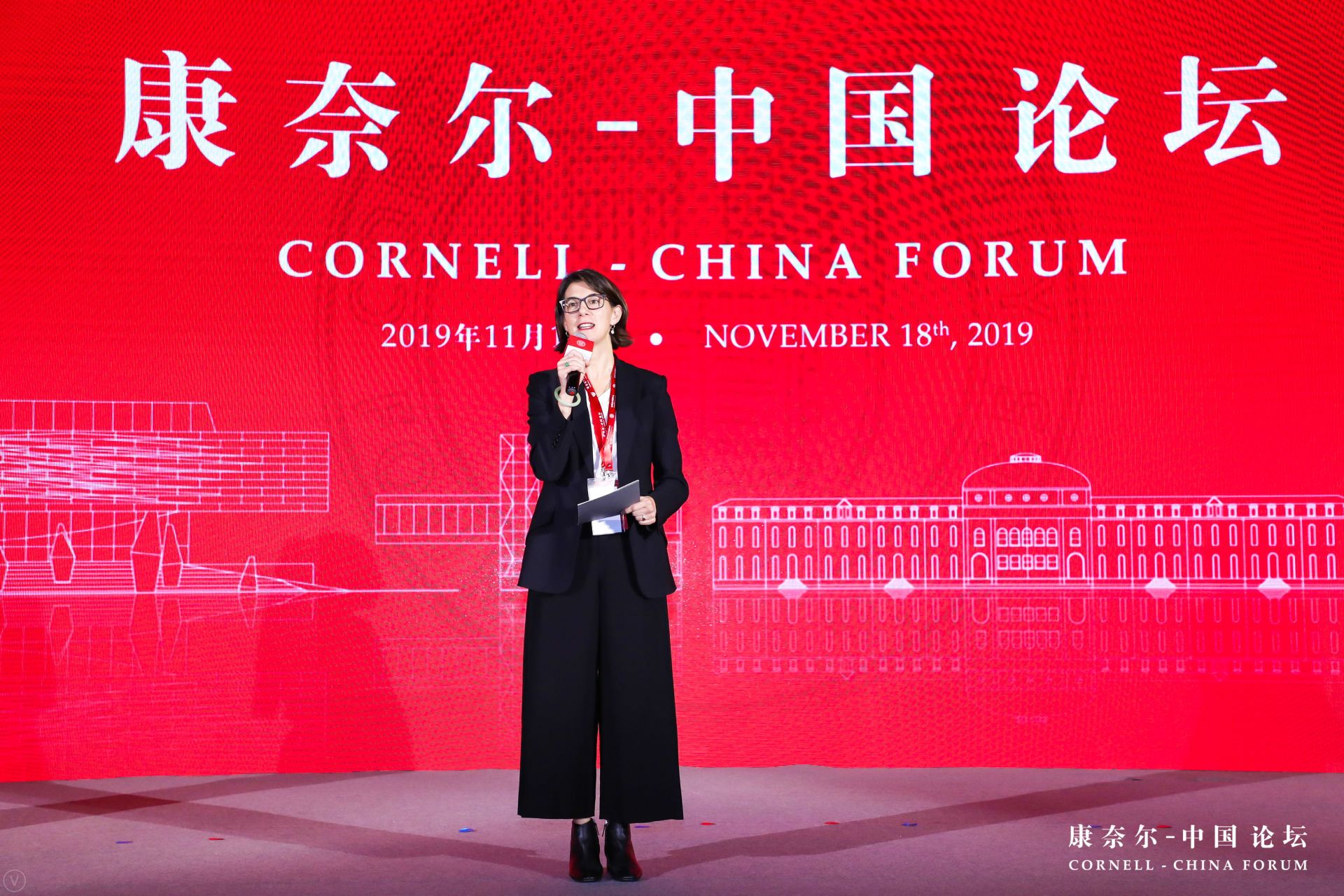 Cornell Vice Provost for International Affairs Wendy Wolford